Starter package setup
FAQ
Release Information
Downloads
Secomea Product Scenarios
GateManager
GateManager Own
LinkManager
SiteManager
SiteManager Embedded
LinkManager Mobile
DCM
DCC
Legacy Products
Manufacturers
How to use your own logo in LinkManager mobile - GateManager Own
---
Purpose
---
This article will provide information about setting your own logo for LinkManager mobile on a GateManager Own.
---
Information

---
LinkManager Mobile (only possible for GateManager Own)
It is now possible to add a logo to the LinkManager Mobile login screen, to either display a legal message (or any other HTML formatted page) or link to an existing page.
The logo should be created as a PNG file named "lmm-login-info.png" and uploaded to the server under "Files -> Public".
Then there is a choice between an HTML file (named "lmm-login-info.html") that contains the whole page or a text file (called "lmm-login-info.txt") that contains a link to another page.
If both files are present, the text file will take precedence.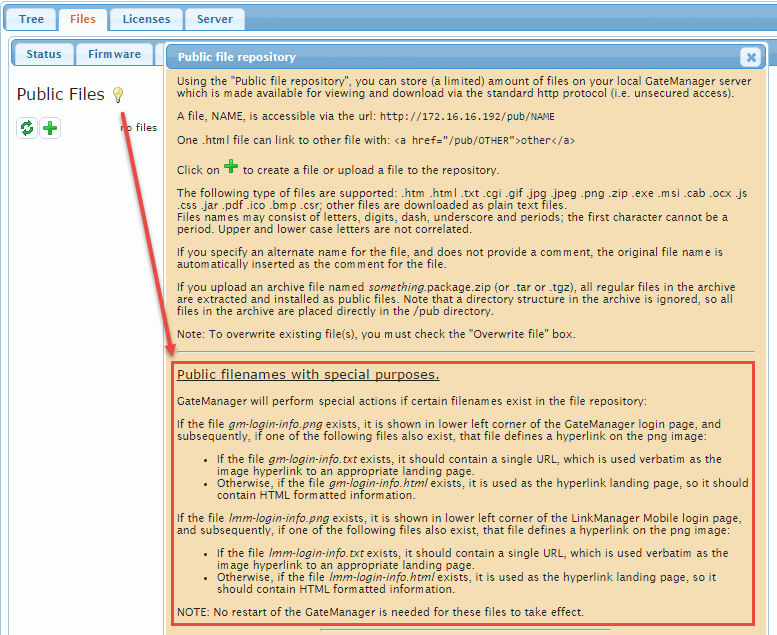 The files are uploaded through the "plus" icon and must have the exact file-name:



When both files are present, like this:

The result will appear when logging in to LinkManager Mobile: