Release Information
Downloads
Secomea Product Scenarios
GateManager
GateManager Own
LinkManager
SiteManager
SiteManager Embedded
LinkManager Mobile
DCM
DCC
Legacy Products
Manufacturers
Getting Started
GateManager cloud configuration
---
Purpose
---
This guide describes how to use a cloud configuration on the GateManager, to be able to migrate the server to a different setup without invalidating the licenses.
---
Cause
---
By default, the GateManager ID is a unique identifier generated from several parameters, here among the UUID of the machine, MAC address, OS version etc.
This makes it difficult to migrate a GateManager server to a different platform, because you need to keep the parameters identical in order to keep the GateManager ID - and since all licenses are bound to the GateManager ID, they will become invalid if the GateManager ID is changed.
---
Resolution
---
On the GateManager server, create a file in /gm called cloud.conf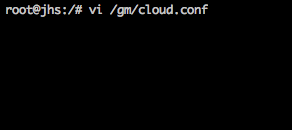 The file should contain 3 parameters:
Id_salt – At least 32 bytes random characters
Identity – Name of GateManager server
Ext_public_hostname – Public hostname of GateManager

Once you save the file, restart the GateManager server - you should now see Identity and GateManager ID have changed. The GateManager ID will now be generated from these values. This means that you can easily spawn a new GateManager instance and create a file with the same content, and your GateManager will have same ID.
---
Limitations
---
The cloud configuration only works on GateManager 8250.