Release Information
Downloads
Secomea Product Scenarios
GateManager
GateManager Own
LinkManager
SiteManager
SiteManager Embedded
LinkManager Mobile
DCM
DCC
Legacy Products
Manufacturers
Getting Started
How long can the SiteManager retain data during connection loss ?
It's very difficult to give an exact time for how long the SiteManager can retain data.
It depends on a number of factors such as:
Number of sample points,
size of the individual sample point,
Sample rate
and allocated number of samples per samplepoint.
The store'n'forward size is defined under each sample-point as the SamplesSaved value.
That determines the number of values you want to save to the DB.
The S'n'F DB has a capacity of:
11xx/33xx: 80 Mbytes
15xx/35xx: 80 Mbytes + use of SD-card storage
(Performance may deteriorate due to the speed of the SD-card)
See DCM > Status for info on your device.

So if SamplesSaved = 10000 and you sample that sample-point every 10 seconds then you can store data from the last 100000 seconds or 1666 minutes ≈ 28 hours as long as Current DB ram cache size doesn't exceed the Max DB ram cache size allowed.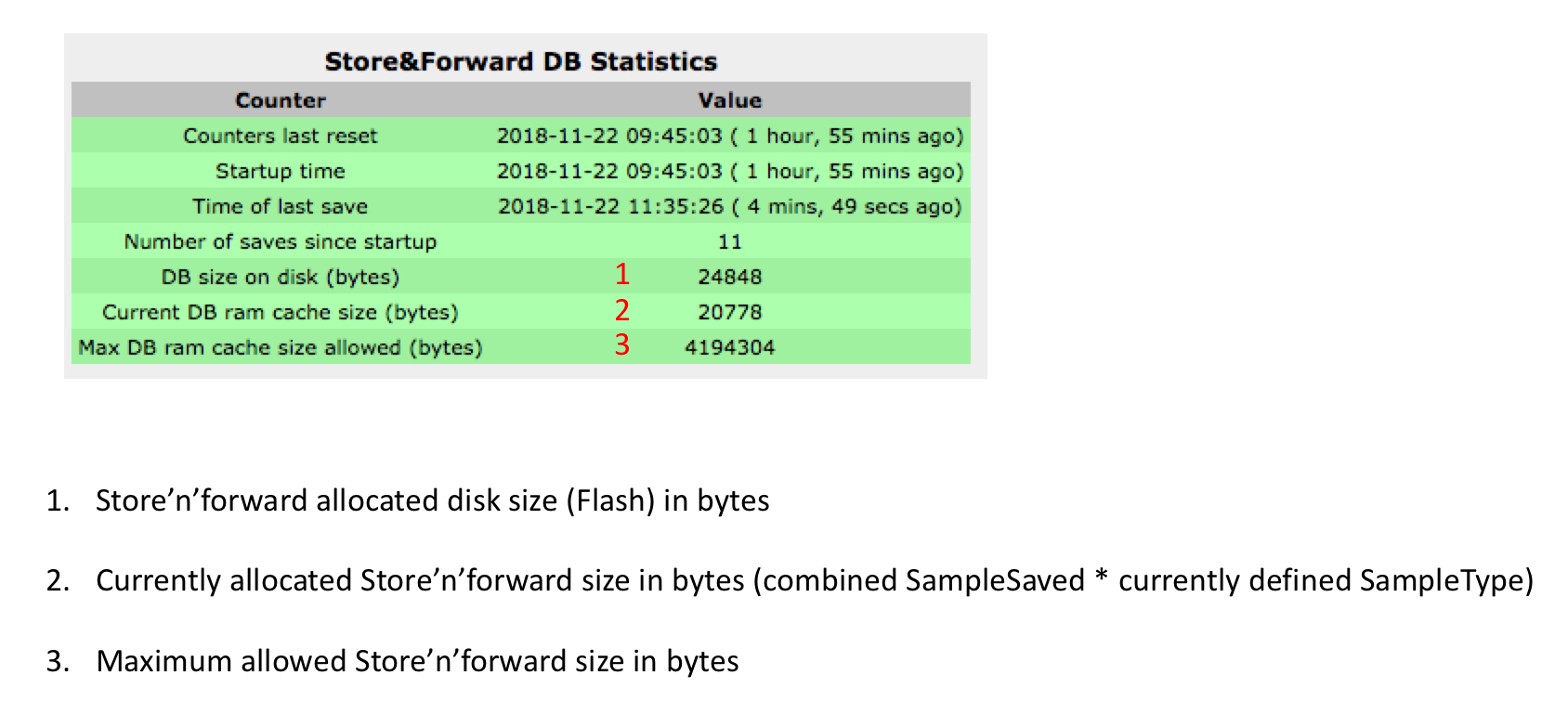 The SampleDataType sizes:
| | |
| --- | --- |
| Type | Store'n'forward size |
| "bool" (1 bit) | 1 byte |
| "sbyte" (8 bit signed) | 1 byte |
| "byte" (8 bit unsigned) | 1 byte |
| "int16" (16 bit signed) | 2 bytes |
| "uint16" (16 bit unsigned) | 2 bytes |
| "int32" (32 signed) | 4 bytes |
| "uint32" (32 bit unsigned) | 4 bytes |
| "int64" (64 bit signed) | 8 bytes |
| "uint64" (64 bit unsigned) | 8 bytes |
| "float" (32 bit) | 4 bytes |
| "double" (64 bit) | 8 bytes |
| "string" (variable text up to 24575 bytes. Includes terminating NULL) | <=24575 bytes |
| "data" (variable data up to 24575 bytes) | <=24575 bytes |
This article covers
SiteManager models 11xx/33xx with Firmware v9.0_19075