Starter package setup
FAQ
Release Information
Downloads
Secomea Product Scenarios
GateManager
GateManager Own
LinkManager
SiteManager
SiteManager Embedded
LinkManager Mobile
DCM
DCC
Legacy Products
Manufacturers
How long can the SiteManager retain data during connection loss ?
It's very difficult to give an exact time for how long the SiteManager can retain data.
It depends on a number of factors such as:
Number of sample points,
size of the individual sample point,
Sample rate
The store'n'forward will fill up with all samples during a connection loss to the cloud.

The S'n'F DB has a capacity of:
11xx/33xx: 80 Mbytes
15xx/35xx: 80 Mbytes + use of SD-card storage
(Performance may deteriorate due to the speed of the SD-card)
See DCM > Status for info on Ingoing rate, Outgoing rate & Store'n'forward usage.
This will give an estimate of the Store'n'forward timeframe at current samplerate.
See DCM > Status > details for info on your device.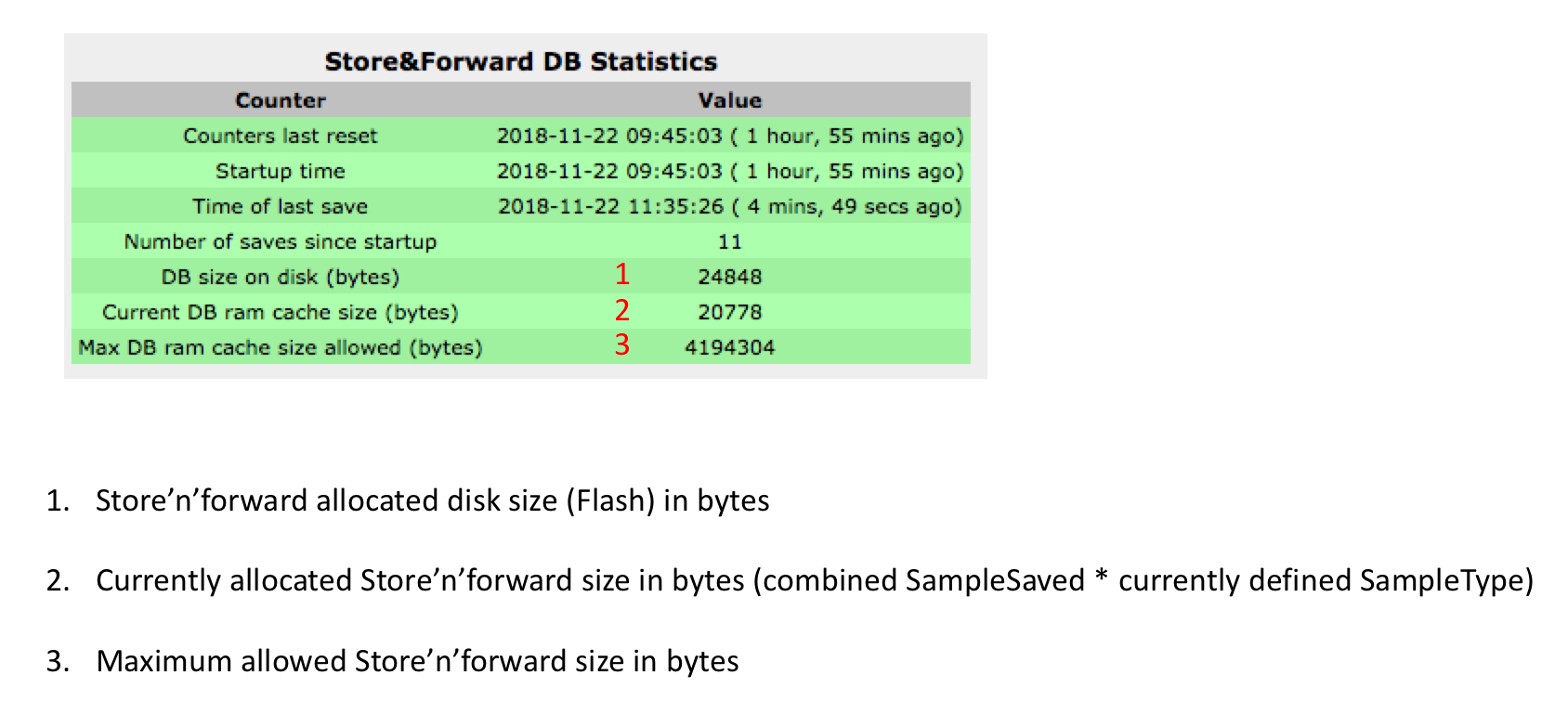 The SampleDataType sizes:
| | |
| --- | --- |
| Type | Store'n'forward size |
| "bool" (1 bit) | 1 byte |
| "sbyte" (8 bit signed) | 1 byte |
| "byte" (8 bit unsigned) | 1 byte |
| "int16" (16 bit signed) | 2 bytes |
| "uint16" (16 bit unsigned) | 2 bytes |
| "int32" (32 signed) | 4 bytes |
| "uint32" (32 bit unsigned) | 4 bytes |
| "int64" (64 bit signed) | 8 bytes |
| "uint64" (64 bit unsigned) | 8 bytes |
| "float" (32 bit) | 4 bytes |
| "double" (64 bit) | 8 bytes |
| "string" (variable text up to 24575 bytes. Includes terminating NULL) | <=24575 bytes |
| "data" (variable data up to 24575 bytes) | <=24575 bytes |
This article covers
SiteManager models
11xx/33xx with firmware v9.0_19075 or higher
15xx/35xx with firmware v9.0.25 or higher