Release Information
Downloads
Secomea Product Scenarios
GateManager
GateManager Own
LinkManager
SiteManager
SiteManager Embedded
LinkManager Mobile
DCM
DCC
Legacy Products
Manufacturers
Getting Started
Understanding Data Collection Module by Secomea
Purpose of this article is introduce customers to our data collection solution.
Data collection is an investment in getting valuable date for long term analyzing to be able to see tendencies and perform preventive and predictive maintenance based on actual data instead of approximated or calculated data.
The Secomea data collection solution is a edge gateway solution. Collecting directly from end-devices as PLC's or other devices capable of presenting data, via industrial protocols like Modbus or OPC UA.
Therefore this is NOT to be confused with SCADA system neither in communication nor in speed.
This solution enables you to collect data in a cost-effective, secure and easy way.
In Secomea data collection "Agents" define which end-device to collect from, the agent also holds the "CollectorName" which links the Agent to a specific section of the json formatted config file.
In the Config file's DataServer section the certificates, private key and connection strings stored in the Certificates storage is linked by the names they are stored under.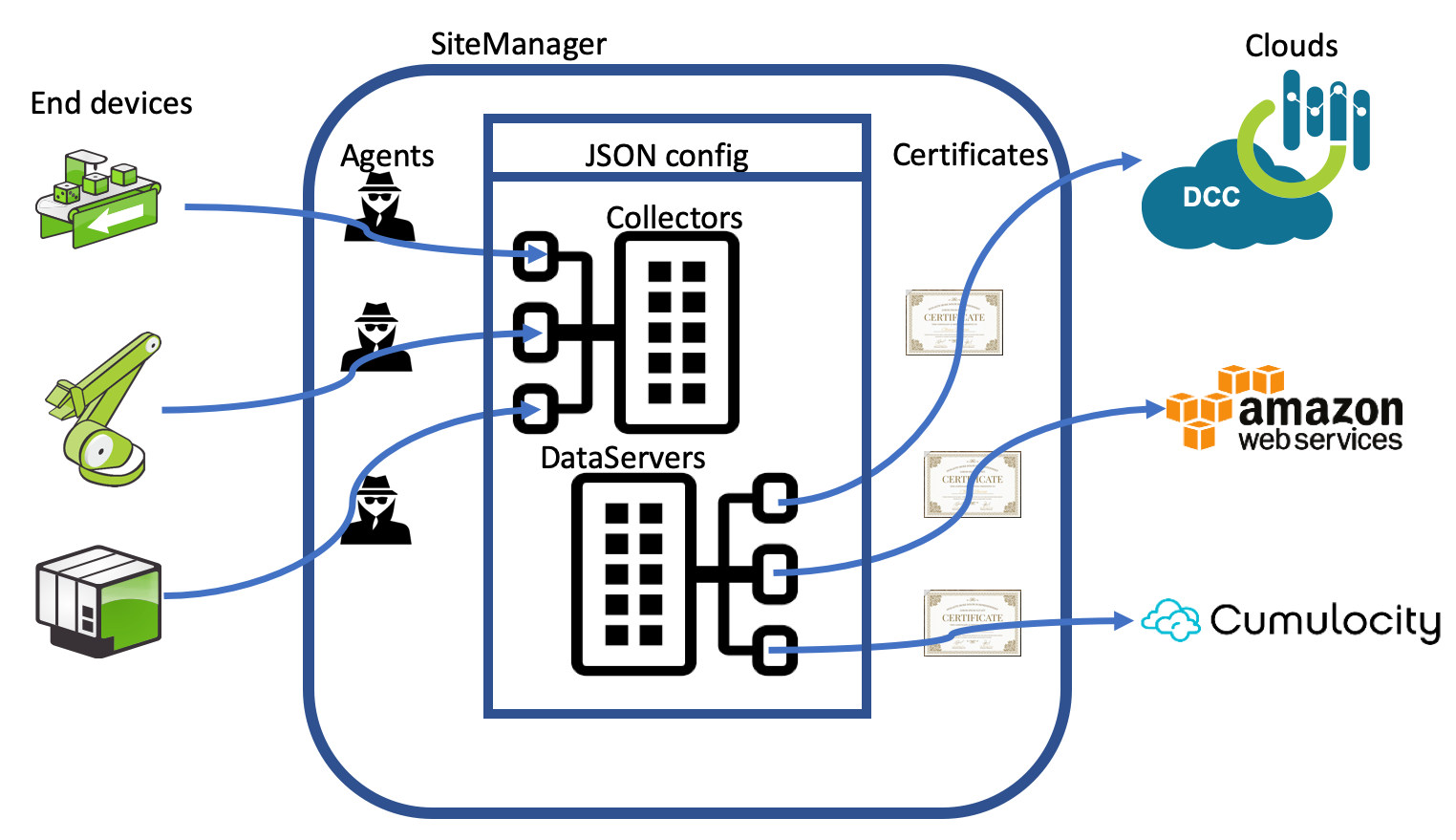 Please select the guide with your choosen cloud:
Getting Started with DCM - Data Collection Cloud by Secomea
Getting Started with DCM - Azure
Getting started with DCM -> Amazon IOT Hub
Getting started with DCM -> Cumulocity Cloud
Getting started with DCM - Schneider Electric EcoStruxture (Machine Advisor)