Starter package setup
FAQ
Release Information
Downloads
Secomea Product Scenarios
GateManager
GateManager Own
LinkManager
SiteManager
SiteManager Embedded
LinkManager Mobile
DCM
DCC
Legacy Products
Manufacturers
SiteManager GUI - Maintenance & Export/Import
Export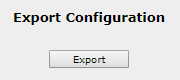 This lets you export the configuration of the SiteManager, and save it into a file on your computer.
Import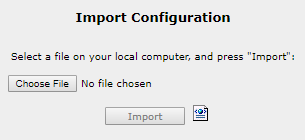 This lets you import a configuration file from your computer into the SiteManager.
Alternatively, if you click on the

[XML icon] , a text field is displayed where you can paste and edit a full or partial configuration to be imported. Once you submit the data, there is no difference in importing a configuration from a file or using the text field.
After the import you may need to reboot the SiteManager to activate the imported configuration.