Starter package setup
FAQ
Release Information
Downloads
Secomea Product Scenarios
GateManager
GateManager Own
LinkManager
SiteManager
SiteManager Embedded
LinkManager Mobile
DCM
DCC
Legacy Products
Manufacturers
SiteManager GUI - GateManager & General
In the GateManager settings, you can setup or change what GateManager the SiteManager is connected to, where its placed on the GateManager and what name it has on it.
Pressing the
button will show all the settings.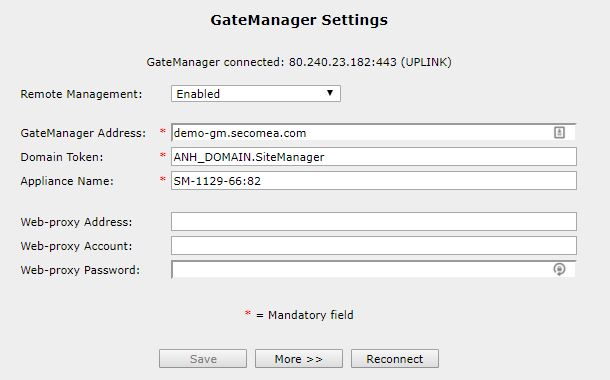 GateManager Address

Enter the DNS hostname or IP address of the GateManager server here.
If there is an alternative IP address for accessing the same GateManager server, enter both addresses here separated by a space. If you use the Appliance Launcher to configure the GateManager page, click the DNS button and then enter the two IP addresses separated by a space.


Domain Token

Enter the token for the GateManager home domain from which this SiteManager, as well as all its Agents and Relays, will be managed.
Domain Token length is limited to 127 bytes including dots, spaces and multi-byte characters.
NOTE: The Domain Token is only used for selecting the initial domain on the GateManager; once connected, any changes to this field are ignored. Use the GateManager portal to move this SiteManager to a different domain - contact your GateManager Administrator for assistance.


Appliance Name

Enter the name or other ID (maximum 127 characters) used by the GateManager Administrator to identify this particular SiteManager. The value of this field corresponds to the %N field code in the Appliance Name Format specifications. With the default Appliance Name Format, if this field is left blank, the Device Name is used, or if that is blank as well, the SiteManager's Serial Number is used.


Web-Proxy Address


The IP address (and optional port number separated by colon) of the Web Proxy through which the SiteManager should connect to the GateManager.
Alternatively, you may specify a Web-Proxy Auto-Detect (WPAD) URL in this field, from which the SiteManager can obtain the actual Web-proxy address, for example .


Web-Proxy Account and Web-Proxy Password

If the Web Proxy requires authentication from the SiteManager, you can specify the necessary username and password here. Digest, NTLMv2, NTLM, and Basic auhtentication methods are supported (in that order).
For an NTLM-based Web-proxy, the account is typically specified as DOMAIN\USER, i.e. a domain name and a user name separated by a backslash character.
By default, "SiteManager" is used as workstation name in NTLM authentication; if needed, a different workstation name can be specified before the account name separated by a colon, i.e. WORKSTATION:DOMAIN\USER.
If you need to specify an empty domain, user, or password, write a single # character in the corresponding field.
: Save the changes made on this page. Changes to the GateManager address or protocol settings are not activated if this SiteManager is already connected to the GateManager.

: Disconnect and reconnect to the GateManager using the current settings.

: Use this button to show advanced options that are normally hidden.