Starter package setup
FAQ
Release Information
Downloads
Secomea Product Scenarios
GateManager
GateManager Own
LinkManager
SiteManager
SiteManager Embedded
LinkManager Mobile
DCM
DCC
Legacy Products
Manufacturers
Tips & Tricks - Access offline SiteManager with Mobile Broadband connection
---
Purpose
---
This article will provide information on how to get a SiteManager back online if the internet for some reason is gone. These are some examples of how that can be achieved.
---
Information

---
Scenario - you are onsite and the SiteManager has lost internet connection for some reason.
Connect via Mobile Broadband

Requirements:
Any sort of Mobile Broadband (2G/3G/4G) device like Mobile Phone, Tablet, Laptop with GSM Modem.

A Laptop with an Ethernet port

Ethernet Cable

SiteManager on DHCP Mode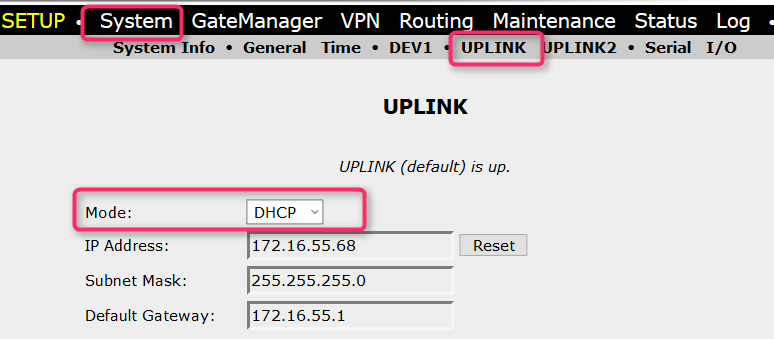 Connect via mobile broadband
1. Create Mobile Hotspot on a mobile phone/tablet or just via USB Modem on a laptop.
2. Connect PC to hotspot
3. Open up Network and Sharing Centre (Control Panel). Bridge the WI-FI adapter with Ethernet adapter in order to give Ethernet port internet access. Mark the 2 adapters and right-click.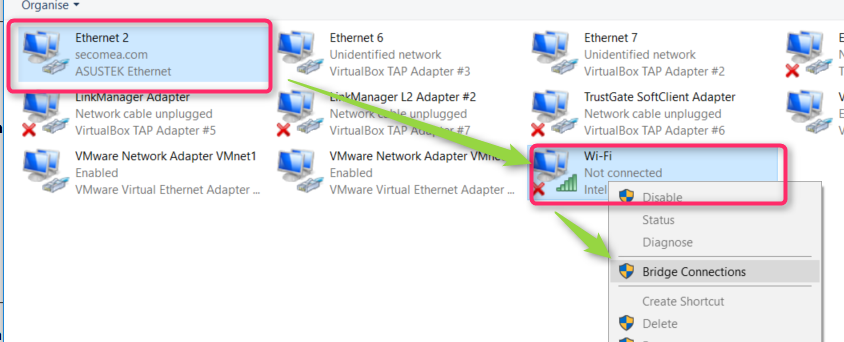 4. Connect Ethernet cable to Uplink
5. Uplink on SiteManager needs to be on DHCP mode when connecting. After that, you can set a static IP on the new IP range.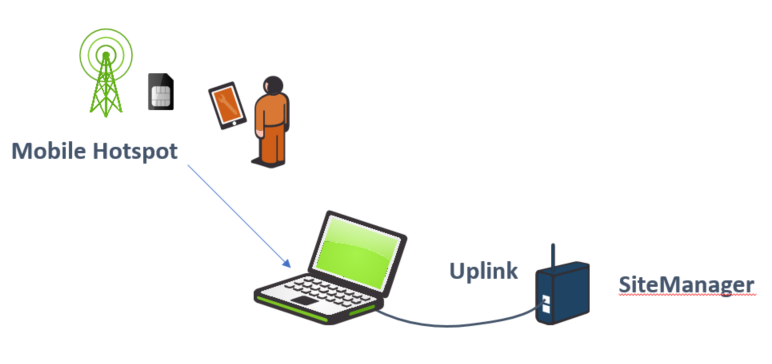 Using default Wifi settings -
Requirements:
Uplink 2 settings SSID and WIFI key are not in use.
Mobile Phone or Tablet acting as a Hotspot.
By default – Without any configuration – The SiteManager will attempt to connect to SSID: SiteManager KEY: Serial number of the SiteManager, using lowercase and no separators (colon, dots, etc). This makes it easy to configure – Create a hotspot on your phone and start configuring the SiteManager"
1. Create Mobile Hotspot with the name "SiteManager" and the serial number as a password, for example, 00c0a200a288
2. SiteManager will by default try to access any WIFI with the name "SiteManager" if the SSID and WIFI key are not configured as in the picture below

3. After connection it will look like this