Starter package setup
FAQ
Release Information
Downloads
Secomea Product Scenarios
GateManager
GateManager Own
LinkManager
SiteManager
SiteManager Embedded
LinkManager Mobile
DCM
DCC
Legacy Products
Manufacturers
Layer 2 agent
---
Purpose
---
This article will provide information on how the Layer 2 agent is used and in what scenarios we recommend using it.
---
Information
---
The Layer 2 agent was added in our Release 6.0.
This is a feature that allows you to gain Layer 2 access to an entire network, or a single device.

Layer 2 access allows you to broadcast search for devices on remote networks. If you have a PLC that has lost its IP address or is unknown, then you will have the ability to connect to this agent and, if your application allows it; search for devices on the remote network.

Please note, that this is not a "fits all" solution. This is only an agent that is to be used if you have no other options, as much as it gives freedom to search the entire remote network, it also allows devices on the remote network communicate with your device.

If you would like to know more about Layer 2, we have an excellent whitepaper that you can download in the download section. This whitepaper explains what Layer 2 is, and how to use it with applications such as TIA and SoMachine.
How to use Layer 2 agent
Connect to your Layer 2 agent in LinkManager.
Go to Start and type "ncpa.cpl" then hit enter.
Right-click the LinkManager L2 Adapter and click "Properties"
Click on "Internet Protocol Version 4 (TCP/IPv4)" and click "Properties"
Type a free IP address on the remote network in IP address. (This will be your address on the remote network)
Type in the Subnet mask for the remote network. (Most of the time this will be 255.255.255.0)
Click "OK" then "Close"
Now you are ready to connect to your devices.
A typical example:
Choose Generic and Layer 2 agent.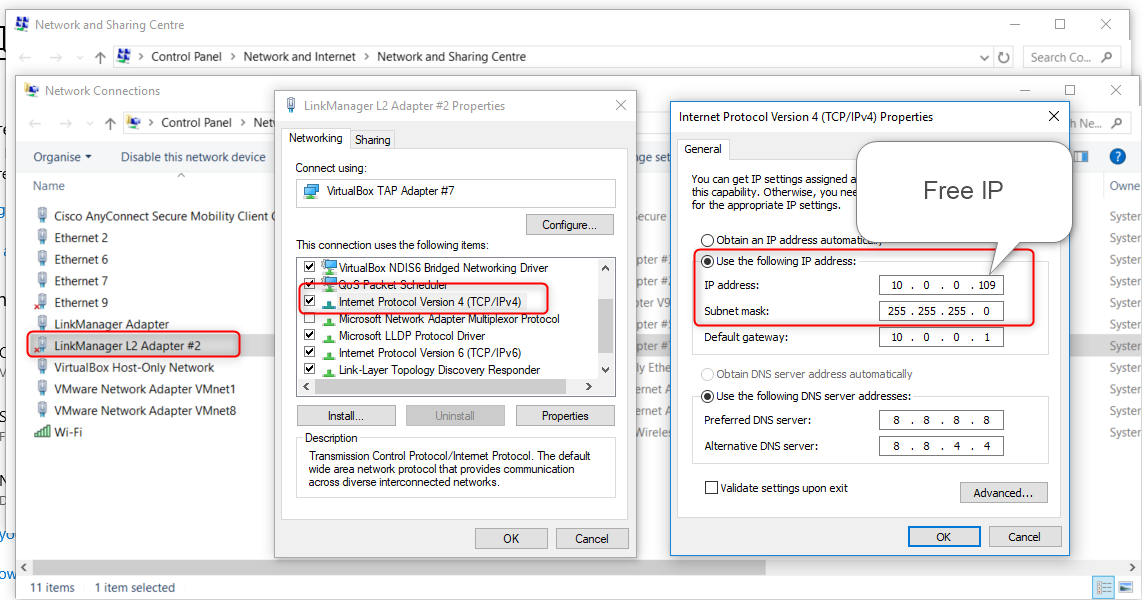 Connect only to the Layer 2 Agent with LinkManager