Static Relays - Interconnection
---
Share feedback
Thanks for sharing your feedback!
This guide will provide information on how to create "Static Relays - Interconnection" between two SiteManagers through a GateManager Own.
Scenario
A computer in one location needs to connect to a camera in a different location. The computer initiates the communication on port 80. Both SiteManagers are in the same Domain on the GateManager.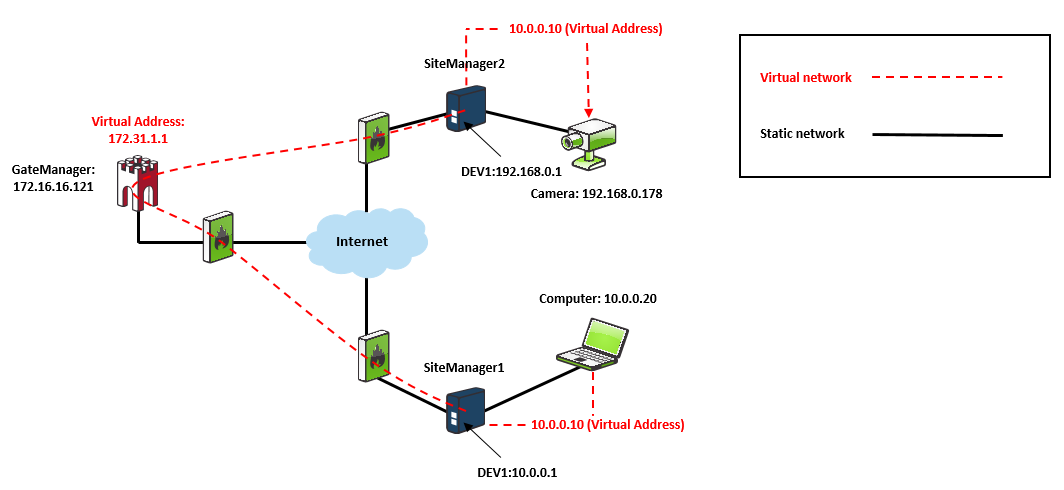 Details

Configuration on the GateManager Server
Click on the domain where the 2 SiteManagers are located and then click the Relay tab.
Domain Relay Settings
Tick the box "Use Local Relay Settings" - When this is ticked, the relays are not inherited to subdomains.
Tick the box "Enable Inter-Device Relays" - This is needed when one SiteManager needs to connect to another SiteManager.

Device Relays - Device Virtual Addresses
Here, we define the Pool of virtual addresses needed to set up the relay. In this example, we only need one address to achieve our goal.

Device Relay - Access Filter
Here, we specify the IP address of the harvesting server that is allowed to access the device relay configured on the SiteManagers (a reference to Device Relay Address Pool).

Server Relays - Server Target Addresses
Specifies the IP addresses of the Log Servers and other computers on the GateManager local network that may be accessed from remote devices/PLCs via a SiteManager Server Relay.

SiteManager1 Configuration
Device (Computer) needs to initiate a connection to an IP ALIAS on DEV1 port of the SiteManager (10.0.0.10 port 80).

SiteManager2 Configuration
The server relay connection to the Camera.

After a relay is created on the SiteManager, you need to go to the GateManager and attach it.


You can now access your Camera.
For additional details, see:
http://ftp.gatemanager.dk/DP_GM_SM-0020-Logging_Deployment_using_Relay_Chains.pdf
---
Was this article helpful?
---
What's Next