Forwarding and Routing (Scada) agents on SiteManager
03 May 2021

1 Minute to read

Contributors
Forwarding and Routing (Scada) agents on SiteManager
Updated on 03 May 2021

1 Minute to read

Contributors
---
Share feedback
Thanks for sharing your feedback!
This article will provide information on Forwarding Agents.
The Forwarding and Routing agents can be used when you want to communicate between devices "across" the interfaces of the SiteManager, whether it is from the Uplink to the Device network or vice versa.
Forwarding and Routing agents are active also when no GateManager connection is present. Essentially the Forwarding agent can be seen as a set of Firewall/NAT rules applied to the SiteManager's Uplink/DEV interfaces, and the Routing agent can be seen as a set of Firewall/Routing rules applied to the Uplink/DEV interfaces.
Typical use
The Forwarding agent is used when a local server on the Uplink network needs to collect data from devices attached to the Device network (DEV), or when a device on the Device network needs to submit data to a server on the Uplink network. In both cases, the SiteManagers IP address represents the actual device address of the opposite side.
In some cases you want the sending party to reach the network on the other side directly by its local subnet, and the SiteManager will act as a router between the networks. This would be the case if you wanted a device on the DEV side to reach the entire Uplink network (or the Internet) through the SiteManager. In this case, a Routing agent is used.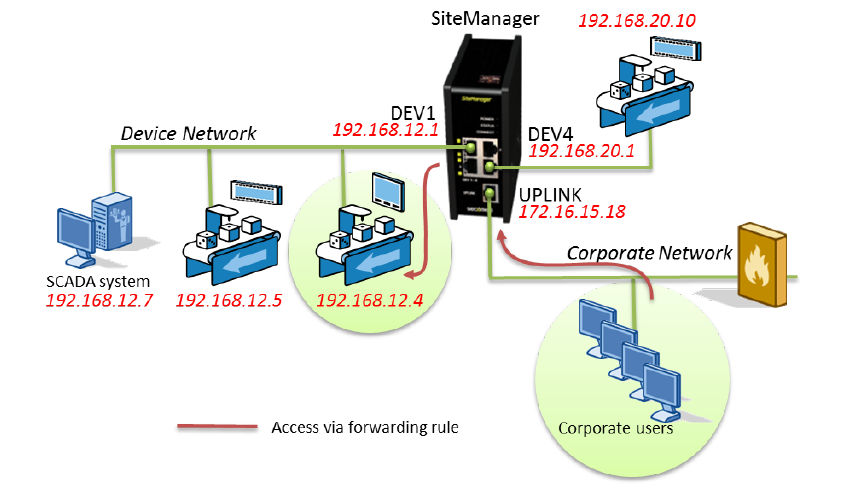 In Release 7.3 the forwarding agent has new features like Dynamic DNS.
The guides below describe the principles of configuring an agent for accessing a device on the device network from the uplink network and vice versa. This application note does not fully cover all functionality of the agents. Please refer to the online help menu in the web interface of the SiteManager for more information.

---
---
Was this article helpful?
---
---
What's Next