LinkManager known browser limitations
05 May 2021

1 Minute to read

Contributors
LinkManager known browser limitations
Updated on 05 May 2021

1 Minute to read

Contributors
---
This article covers LinkManager version 8 and new and will inform about the know browser limitation in LinkManager, as well as some frequently asked questions related to the browser.
LinkManager implementation varies through browser types.
We currently support
Google Chrome.
Opera.
Mozilla Firefox.
Microsoft Edge.
Microsoft Internet Explorer.
Safari (without the connect option, see below for more information).


The browser says that LinkManager is installed, but I do not have it installed.
Browsers can get to a state where they think LinkManager 8 is installed when it's not. When the LinkManager is initially installed, browser sessions will save the serial number of the LinkManager 8 in Local Storage. This means that when this serial number is present the browser will assume the LinkManager 8 is installed, even though it could have been removed afterward. Just reinstall the LinkManager to remedy this situation - you can find the download link via the troubleshoot - you can find the guide to it, Click Here.
Why is there no connect button in Safari?
Safari is not supported on Windows, and therefore it is not supported by LinkManager 8. It is possible to log in with a LinkManager account, although no "Connect" option will appear.
Does Cliqz work with LinkManager 8 ?
As Cliqz is gaining popularity. It was used for testing as well but is not officially supported. As it is a Mozilla port it has the same functionality as Firefox and is likely to perform exactly as Firefox does.
I get a "retry connection" in Firefox, what does it mean?
Due to the architecture of Firefox, a pop-up window like below could appear. This was fixed in the GateManager 8.1 release.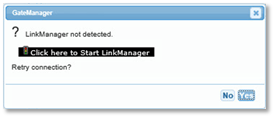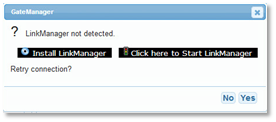 ---
Was this article helpful?
---
---
What's Next