Basic SiteManager Agent Setup
18 May 2021

1 Minute to read

Contributors
Basic SiteManager Agent Setup
Updated on 18 May 2021

1 Minute to read

Contributors
---
This article describes a basic setup for a SiteManager and a device (ex. a PLC). Within a few minutes, you can set up remote access to a device.

SiteManager configuration
Under System-DEV1, SiteManager can look as follows. The PLC must then match the IP range of the DEV port, e.g. if the IP of the DEV port is 10.0.0.1, which is the standard, the PLC must have an IP of this format: 10.0.0.xxx where xxx is a number in the range 2-255.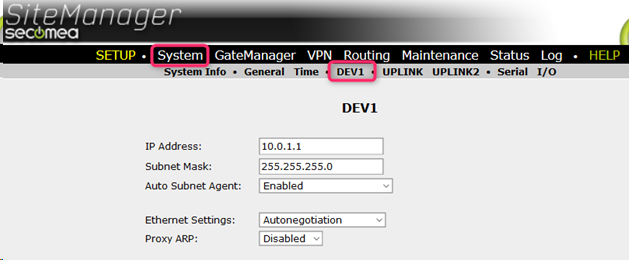 Once this is accomplished, you should navigate to the GateManager tab, then Agents, where you can set up your agent by picking a recognisable Device Name, a device type that matches your device (If you cannot find your specific make and model, there are generic or custom agents available), and the IP of the device. (Additionally, parameters can be set by using the "Parameter Details" button.


---
Was this article helpful?
---
What's Next