Can I still use LinkManager 7 on my PC?
---
Share feedback
Thanks for sharing your feedback!
Important note: As of LinkManager 8 v9.3 LinkManager 7 can no longer be installed alongside LinkManager 8.
This article illustrates how to switch between LinkManager 7 and LinkManager 8. Please note that the two LinkManager versions CANNOT run concurrently, but they can both be installed simultaneously on the same Windows machine.
What's the difference?
LinkManager 7 runs in a virtual box inside your Windows PC, while LinkManager 8 runs as a service. Both use the same virtual Ethernet adapter.
How to run LinkManager 7 with LinkManager 8 already running
Right-click the LinkManager 8 tray icon and click Exit.

Double click the LinkManager 7 icon.

LinkManager 7 will now start-up and launch the user interface browser.

Log in and start using LinkManager 7.
How to run LinkManager 8 with LinkManager 7 already running
Exit your LinkManager 7.

Log in with your LinkManager account on your GateManager.

Click the green arrows and LinkManager 8 will start and be ready to use.

Troubleshooting
If you see this pop-up, your LinkManager 7 is still currently running.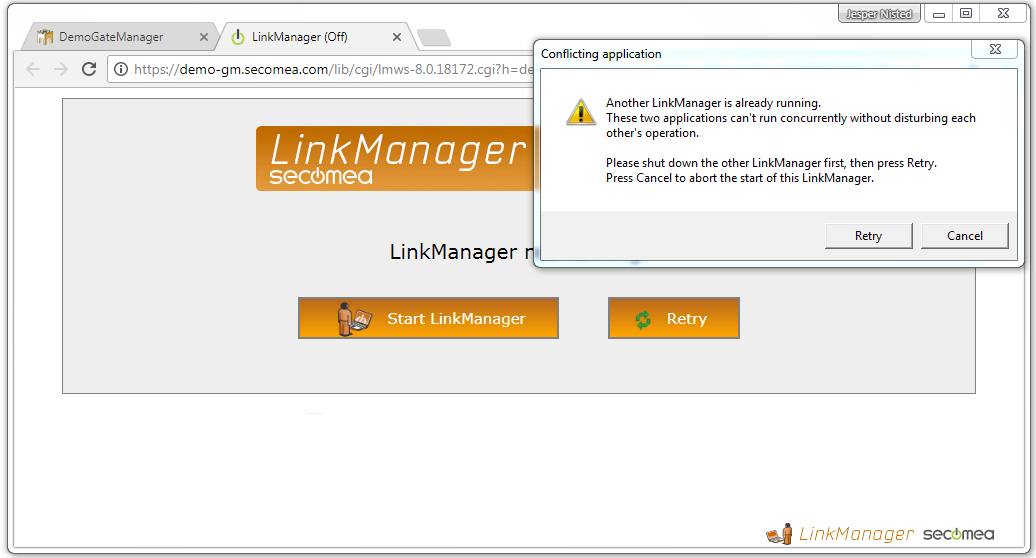 ---
Was this article helpful?
---
---
What's Next